I had the pleasure to participate in The Craftery Market last Saturday, July, 28th 2018 at the Tabora Farms & Orchard in Bucks County. We had a long week of storms prior to the market, but luckily, we had a gorgeous day in the 80's and many people came out to support all the vendors.
Tabora Farms & Orchard has a beautiful farm. From things to do for kids to wine tasting for adults and fresh, amazingly fragrant baked goods for everyone to enjoy. Adding all the vendors showing handcrafted items was just the cherry on the top to this family friendly location.
The Craftery did, yet again, an amazing job at organizing a great event. Jessica Jackson, owner of The Craftery puts together this kind of markets each season. I was just moving from California when the Spring Market happened. I was thrilled when I found out I was able to be part of the Summer one.
I felt the market was well coordinated and organized. I loved that it was done at night as the weather cool down a bit, and it was a little more enjoyable for everyone to walk around the farm and enjoy what every vendor had to offer. As a vendor, I was able to pull my vehicle all the way to my booth, which made it super easy to unload and set up. Each vendor had a specific time to arrive and unload too. That made logistics easy for the farm and vendors.
Paperloveme offered EVERYTHING in the store. We had discounts for whoever enrolled in any upcoming in-person classes which by the way, our August classes will be at The Craftery. And for people who wanted to learn in their own home and pace, they had the option of getting calligraphy kits and individual calligraphy tools.
The Craftery is located in Dublin, PA and on August 11th from 10 am to 12 pm I will be teaching Watercolor Brush Calligraphy, and on August 25th from 10 am to 12 pm I will be teaching Modern Calligraphy for Beginners. Come join me!!
We showcased our wedding invitations, envelope calligraphy, wedding signage, personalized leather and jean jackets for you to wear on your wedding day and much more! For home decor, we had chalkboard signage and banners to decorate the rooms of the house or office. Not only that, we had items for all seasons of the year.
If you feel like you missed out, not to worry! You can visit my virtual shop on Etsy!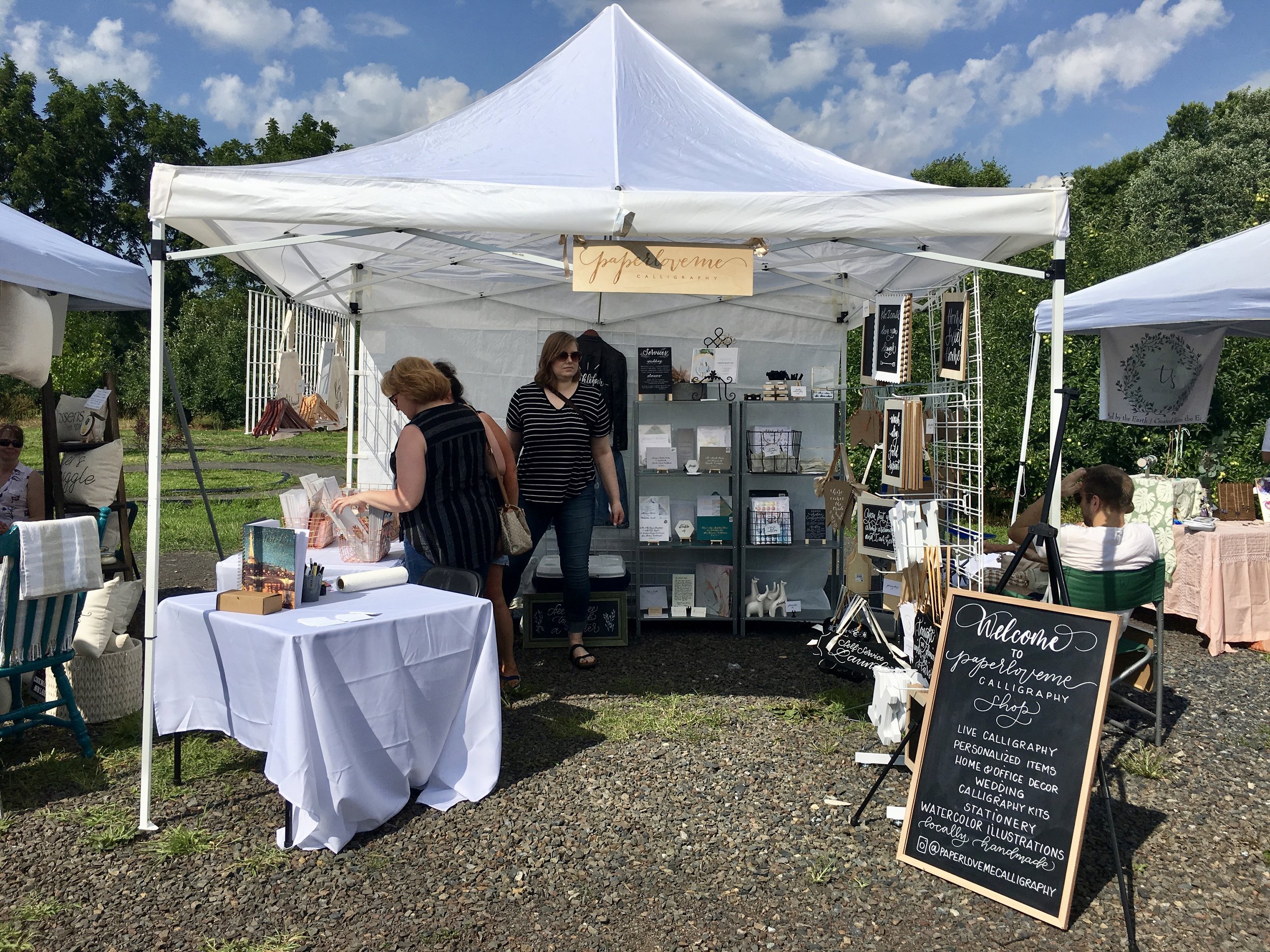 Overall, I feel that vendors and visitors had a great time. I can't wait for the Fall Market!